Francis Whelan served from 1955 to 1973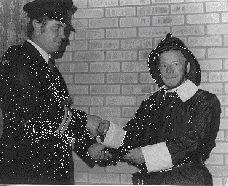 Sub-officer Francis Whelan snr R.I.P.
After eighteen years or service with the Hacketstown fire brigade, Francis Whelan of Bridge street, Hacketstown, retired .To mark his retirement a presentation was made to him in St. John's hall, Hacketstown on Friday the 14th of December 1973. Making the presentation on behalf of Mr. John Creede,the chief fire officer at the time was Mr. Thomas Webster, operational and training officer for Carlow.