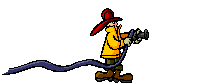 Hoses and couplings
`
In the Irish fire service there are various types of hose and couplings used. They can be briefly described as follows:
Hose: (1) Suction hose
(2) Delivery hose
(<First aid hose
Couplings: (1) Round thread
(2) Instantaneous
(3) Hermaphrodite
A particular type of coupling is generally used to connect up lengths of hose of a particular kind i. Screw thread couplings are used to suction hose, Instantaneous couplings are used on delivery hose and Hermaphrodite couplings are generally used on first aid hose .
Hose come in varying sizes , both in length and in diameter,dimensions and each individual hose is called a "length". When two or more "lengths" of hose are joined together it is now termed a "line" of hose. Suction hose usually are 8 feet long(2.4m) and have a diameter dimension of 4 inches (10.1cm)
3 inches (7.6cm) and 5 1/2 inches (13 cm) diameter suction hose are sometimes supplied on the specification of the senior fire officer for specific conditions.Suction hose can be manufactured from various materials but is generally nylon re- inforced rubber with wired armoring to prevent collapse of hose when being used from open sourse. Plastic materials are now sometimes used in the manufacture of suction hose and are more and more coming into use on account of their light weight.
Delivery hose also come in varying length and diameter dimensions and are normally 75 feet long (23m) or 100ft long (30.4m) the diameter can vary between 1 inch (25mm) to 2 1/2 inches (70.3)
First aid hose is supplied in 60 feet lengths (18.3) and have a diameter dimension of 3/4 inch (19 mm)
Hose is divided into two categories according to its main function, "delivery " hose is laid on the delivery side of the pump where water passing through it is at a pressure greater than that of the atmosphere. "Suction hose is employed on the suction side of the pump where the water passing through it may be at a pressure either below or above that or the atmosphere. Delivery hose may be further divided into unlined and non-percolating hose which is lined with a rubber or plastic lining which makes it perfectly water tight.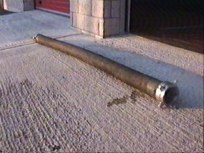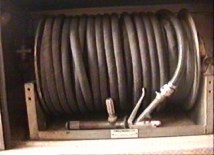 Delivery hose Suction hose First aid hose